KING N'UAVU of the FAEN PRIDE
name [//] N'uavu
species [//] Vystrian lion
gender [//] Male
sexuality [//] Straight
pride [//] Faen
position [//] King
LONG FANGS AND DARK FUR
N'uavu is an averagely sized Vystrian lion male with dark brown fur shading into oranges and golds near his legs, cream marking his muzzle and toes. The black fur across his face, shoulders, back and thighs blend into his lighter colors in a series of mottled stripes and tigerlike swirls. In the sunlight, his fur is almost metallic - the browns and oranges shine copper in strong light, where the black gleams a deep, silvery blue.
His mane starts off with streaks of gold that fall around his light green eyes, quickly shading to a black that wraps around the back of his neck and his chest. Matching his tail tuft is a swath of mahogany, from the base of his throat down his chest. He also has very long saber fangs that curve over his strong jaw.
REAP THE SOULS OF THE LOST
His father, Noctis, was a strong lion pitch black as the night; he was told to have been the dark brother of Nebrielas, so black was his pelt, dotted with miniscule white hairs like a thousand hidden stars. Noctis was known for his ability to claw away the lifeforce of living creatures and destroy their souls with his long white claws. N'uavu's mother had the power to temporarily 'borrow' powers from whatever creature she touched.
N'uavu has inherited both of these, in part. He's able to rip away at an opponent's soul, leaving spiritual damage with phasing claws, much like King Noctis; however, he cannot kill in this way, nor absorb their energy into himself. Instead, inflicting such spiritual damage grants him temporary use of their abilities, anywhere from a handful of minutes to half an hour.
QUIET SOUL AND LAUGHING HEART
N'uavu is a kind young lion filled with laughter. He loves to joke around with the cubs in his pride, and play hunting games with them. However, when duty calls, he makes a strong - if inexperienced - leader, and manages his lionesses well. He is diplomatic and thoughtful, never jumping into anything before consulting the elders of the pride and taking their advice.
In battle, he is somewhat headstrong, and very overprotective of young lions and cubs.
SCRATCHES ON THE ROCKS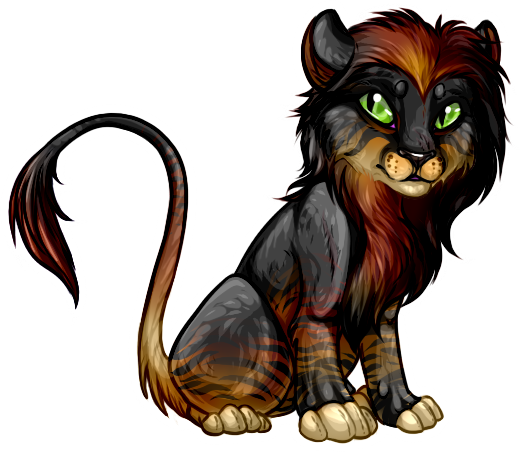 ROAR OF THE GODS
Coding and character (c) me; art to Nako on Lioden (I need your ID - please PM me! <3)